Rilka's chickpea fattoush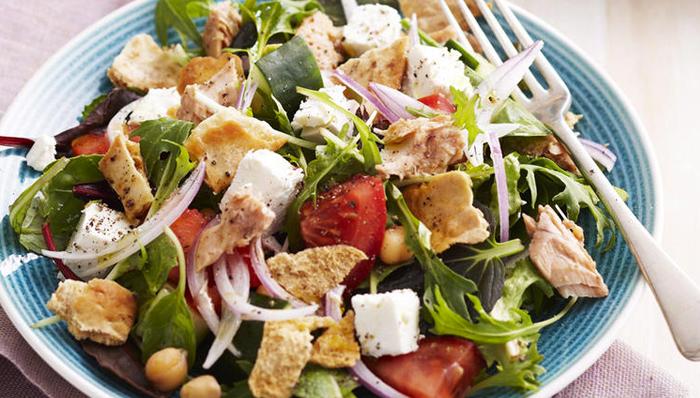 Thanks to Rilka Warbanoff and Foodland.
Serves 10
Ingredients
2 pieces gluten free bread
Olive oil spray
1 tbs sumac
2 tbs fresh lemon juice
1 1/2 tbs olive oil
1 x 400g can chickpeas, rinsed, drained
2 x 250g punnets grape tomatoes, halved
2 Lebanese cucumbers, quartered lengthways, thickly sliced
2 small red capsicums, deseeded, coarsely chopped
6 shallots, ends trimmed, thinly sliced
1 cup chopped fresh continental parsley
1 cup fresh mint leaves
Method
Preheat oven to 200°C. Line a large baking tray with non-stick baking paper. Spray the bread with olive oil spray and place on the lined tray. Sprinkle with 1/2 teaspoon sumac. Bake in oven, turning once until crisp and light golden. Set aside on the tray to cool completely. Break into bite-sized pieces.
Whisk together the lemon juice and oil in a jug.
Combine the chickpeas, tomato, cucumber, capsicum, shallot, parsley, mint and remaining sumac in a large bowl.
Add the dressing to the salad and toss to combine. Season with pepper. Add the bread and toss to combine. Serve.
SEE ALSO
MAKE YOUR OWN RANCH FRIED CHICKEN… EASY!